Spicy Fillets of Anchovies with parsley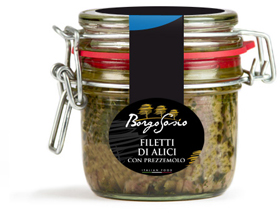 Article Code:
8012464000436

EAN Code:
FA6230OPR
Net Weight:
230 gr
Drained Weight:
140 gr
Ingredients:
Anchovies, Olive oil, Salt, Parsley.
Units for carton:
Package 6 pieces.
Preservation Method:
Shelf life 2 years. Refrigerate after opening.
Condition of use:
Consume the product after opening withing 1 months.
Nutritional facts for 100 gr the product:
Energy value 225 kcal -940 kj; Proteine 30,22 g; Carbohydrate 2,53 g; Fat 9,98 g.

Weight:
3,000 kg